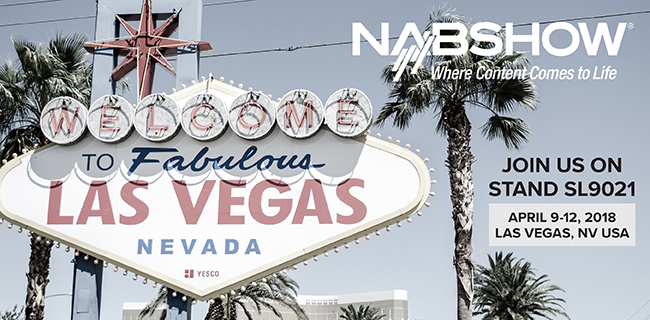 BLUEFISH444 STAND SL9021
NAB Show April 9-12, 2018
NAB Show 2018 is set to be a great one for Bluefish444, with new video hardware offerings, professional application support from Industry leaders, and brand new software offerings to be announced.

BLUEFISH444 KRONOS RANGE
Bluefish444's latest addition to the video I/O product offering, KRONOS Elektron and KRONOS Optikos, will be shown off at NAB Show 2018 in a range of workflows.
Bluefish444 will be demonstrating KRONOS Elektron and KRONOS Optikos with 4K HDR output from Adobe Premiere Pro CC, simultaneous SDI and IP playout from Avid Media Composer, and 8 channel SDI ingest with Bluefish444's new IngeSTream IP streaming software. KRONOS video hardware will be supported by industry leading manufacturers and software partners within the Production, Post-production, and Broadcast markets. Many of these partners will be announcing and demonstrating this support at NAB Show 2018.
Learn more about KRONOS by visiting us on stand SL9021 at NAB Show 2018.

zLense Broadcast GFX
Bluefish444 will discuss the benefits of Bluefish444 video hardware used in conjunction with the most popular Broadcast Graphic workflows, including Virtual Sets, Graphic Overlays, Subtitling, and many more.
Bluefish444 will have a demonstration of zLense using Epoch | 4K Neutron video I/O on stand SL9021 at NAB Show 2018. The demonstration will show how backgrounds can be separated from talent without the use of any green screen, and will show how the Bluefish444 Epoch | 4K Neutron low-latency hardware can help reduce the delay in CG workflows. Bluefish444 Epoch hardware will be used in both the zKey appliance and also in the 3D rendering appliance, utilising Unity plug-in for the final rendered output via Bluefish444 SDI.
zLense's zKey™ 3D keying system uses depth information to separate the foreground talent from the background, creating an alpha channel in real time. Bluefish444 Epoch video cards capture uncompressed HD-SDI video from the camera where the depth information and the video data are processed, an alpha channel is generated, and both playout as 4:2:2:4 Fill and Key SDI.

Video Over IP
Bluefish444 will create a real-world Video Over IP workflow for SMPTE 2022-6 playback and capture showing what really differentiates Bluefish444.
Bluefish444, with AVID-certified hardware, continue to develop and enhance the support for Avid Media Composer editing software. The latest additions will add Bluefish444 KRONOS to the existing Epoch video card support from within Avid Media Composer, allowing enhanced 4K 60fps HDR support in addition to SMPTE Video Over IP standards. Existing customers using Bluefish444 Epoch video hardware will gain access to SMPTE 2022 capture using standard off-the-shelf 10Gb Network interface Cards (NIC).
Bluefish444 4K SDI/HDMI and Video Over IP support for Avid Media Composer on Windows and macOS platforms will be demonstrated on stand SL9021 at NAB Show 2018.

4K HDR Editing
4K HDR Editing systems will be set up for real-time 4K High Frame-Rate, High Dynamic Range delivery. Supported applications include Adobe Premiere Pro, Avid Media Composer, Assimilate SCRATCH, and Marquise Technologies MIST.
Bluefish444 will be demonstrating Adobe Premiere Pro CC with SMPTE 2022-6/2110 support, in addition to 4K HDR support for the KRONOS and Epoch ranges, on stand SL9021 at NAB Show 2018.

Video Streaming
All-new Streaming applications will be running with Bluefish444 multi-channel SDI inputs. Be it network streaming for live production with NDI, or encoding for content delivery streaming, Bluefish444 SDI have 4K – HD – SD workflows covered.
Bluefish444 have developed IngeSTream software to enable the capture and encode of video from IP, SDI, and HDMI sources for video streaming and networked video workflows. IngeSTream captures up to 8 channels of SMPTE 2022/2110, SDI, and/or HDMI video and audio from Bluefish444 Epoch and KRONOS hardware, and converts them to IP streams such as NDI, SMPTE 2022-6, SMPTE 2110 or RTP/RTSP.
IngeSTream will be available to Bluefish444 customers in 2018. Bluefish444 will have a working demonstration of IngeSTream on stand SL9021 at NAB Show 2018.
Visit Bluefish444 at NAB Show stand SL9021 to see all of our latest hardware and software. Bluefish444 experts will be showing a range of workflow demonstrations, including Video Over IP, 4K HDR, Streaming, Encoding and Capture solutions, plus much more!


If you would like to schedule a meeting with Bluefish444 at NAB Show, please click the link below.