The Professionals' Choice
Bluefish444 is an innovative developer, manufacturer and marketer of uncompressed 4K/2K/HD/SD SDI, HDMI & ASI I/O video cards and mini converters for the professional video industry. Founded in 1998, we are headquartered in Melbourne, Australia. Bluefish444 is considered the Professionals' Choice for video I/O by virtue of the quality, stability, and features of our products and the support we back them with.

Bluefish444 deploys its products to every continent in the world through a network of OEM developers, distributors and resellers and has an installed customer base of over 20,000 systems. Our industry partners include some of the best known content creation brands deployed in Film and TV workflows worldwide and our customers include the most recognisable names in the creation and delivery of professional video to consumers.
Bluefish444 was the first SDI video card manufacturer to supply uncompressed 4K UHD SDI I/O workflows to the professional video industry in 2012. Before that, Bluefish444 was a pioneer of the Digital Intermediate workflow delivering the first real time uncompressed 4:4:4 SDI I/O in 2003 as the industry transitioned between film, tape and digital intermediate files.
At the heart of Bluefish444's SDI I/O technology is a proprietarily developed 12 bit video processing engine continuously developed over a decade and consecutively deployed in each generation of new design to ensure the highest quality acquisition, preview and mastering of SDI video.
The Future?
With a strong focus on the future, Bluefish444 makes substantial investments in continuous R&D. Our mission through innovation is to deliver solutions today for the professional video industry's technical advancements of tomorrow.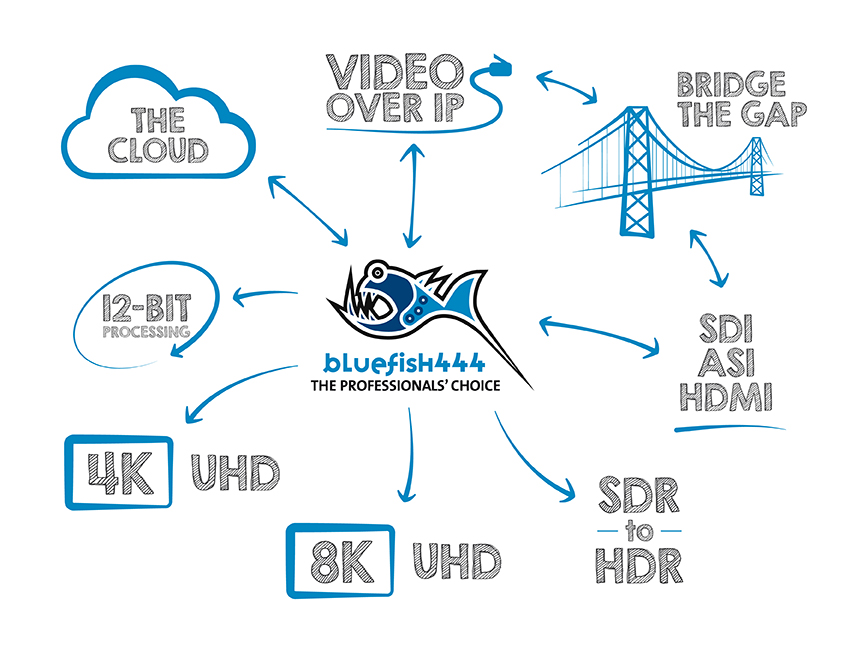 File based workflows, high resolution 4K production, 4K post-production, HDR workflows, and video over IP are at the forefront of transitions in the professional video industry. Bluefish444 are continuously innovating in these areas.