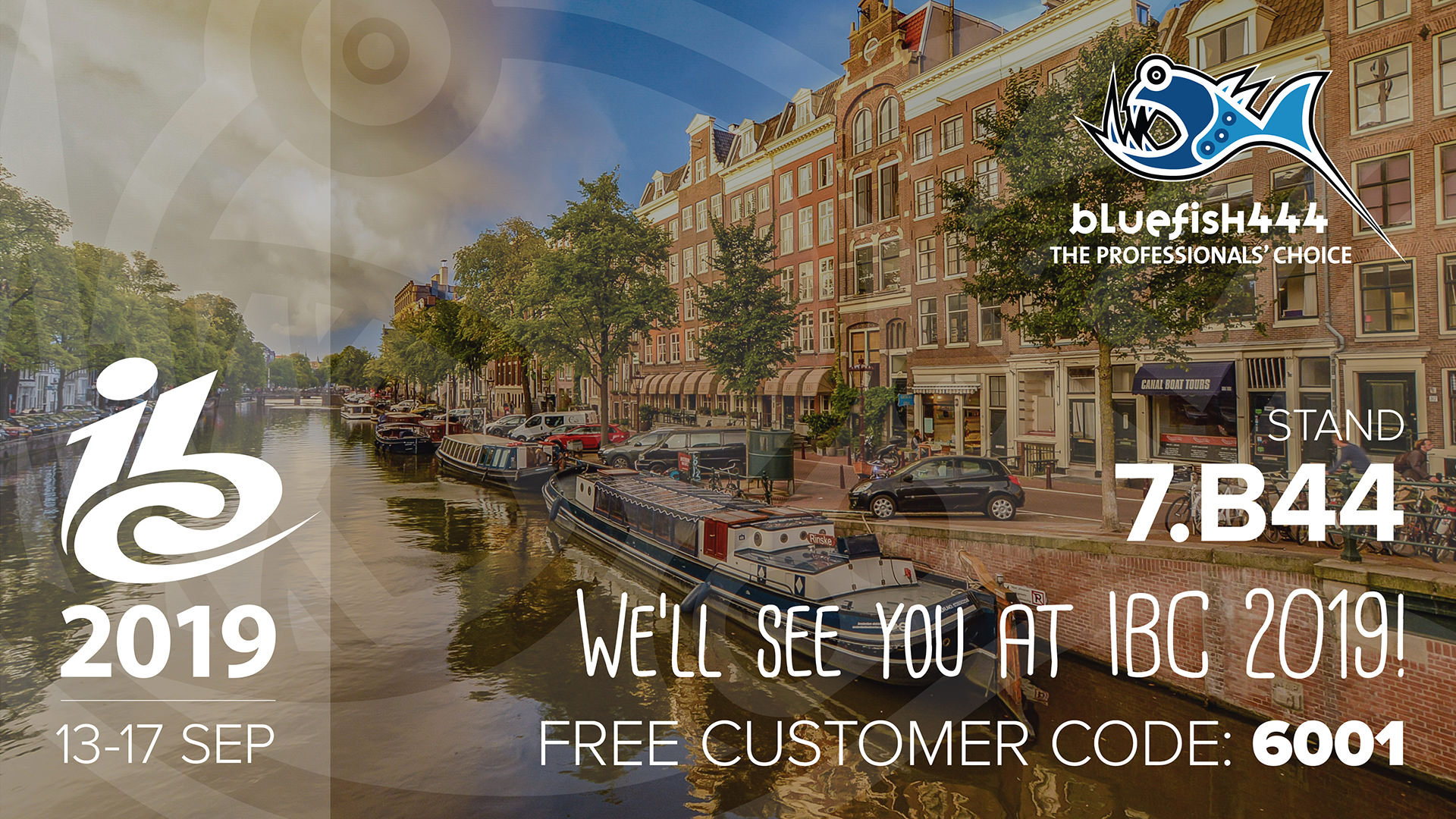 BLUEFISH444 AT IBC 2019
STAND 7.B44
IBC Show 13-17 September, 2019
EXHIBITION CODE 6001
If you have yet to register your attendance for the show, do so on the IBC Show website using the above code for a free visitor pass to the exhibition.

QUALITY ASSURANCE
Bluefish444 will demonstrate 4K HDR/SDR quality assurance partnering with Marquise Technologies. Marquise Technologies' ICE and MIST applications will be integrated with the newly-released Bluefish444 KRONOS K8 I/O card to output both HDR and SDR 4K/UHD SDI. ICE is the most advanced reference player for DCP, IMF packages with real time video and audio monitoring available via Bluefish444 Epoch and KRONOS hardware.
See this and our other demonstrations for yourself on stand 7.B44 at IBC Show 2019.



REMOTE INGESTORE MULTI-CHANNEL CAPTURE
Bluefish444 will show IngeSTore Server 3G in a multi-channel SDI/SMPTE IP/NDI capture workflow for live production. IngeSTore now features new codec support, and a REST API allowing the control of multiple IngeSTore Servers over standard networks with Bluefish444's HTTP client. The API also gives integrators the ability to control IngeSTore through existing infrastructure such as MAM's, Master Control systems, and opens the door for custom development of features and user interfaces for IngeSTore software.

VIDEO STREAMING
Bluefish444 will demonstrate its forthcoming IngeSTream multi-channel streaming software, which features full support for NewTek's NDI® protocol, RTP streaming and other network video protocols like SMPTE 2022/2110. IngeSTream can capture up to 8 channels of SMPTE 2022/2110, SDI, and/or HDMI video and audio from Bluefish444 Epoch and KRONOS hardware, and convert them to IP streams such as NDI, SMPTE 2022-6, SMPTE 2110 or RTP/RTSP. Bluefish444 will have a live demonstration with IngeSTream streaming captured SDI video as an NDI signal to a NewTek TriCaster® Mini.
Bluefish444 will be at IBC Show 2019 with live production, content creation, quality assurance and low-latency workflow demonstrations from SD to 4K/UHD SDI, HDMI, and IP video I/O. We've partnered with Marquise Technologies, Avid and Adobe, along with many industry partners, to show our KRONOS video I/O, IngeSTore Server 3G multi-channel capture, IngeSTream multi-channel SDI to NDI, plus more of our software and hardware developments and integrations.
Visit Bluefish444 at IBC 2019 to see the Bluefish444 Advantage for yourself.


If you would like to meet with the team at IBC Show 2019 for a personal demonstration or to learn more about our products, please book an appointment below.