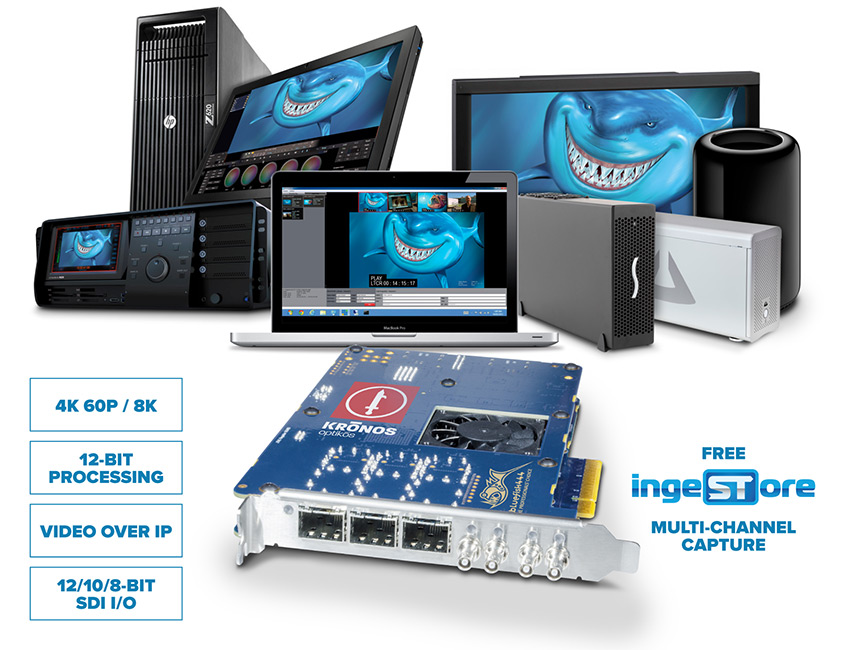 A Titan of High-Bandwidth I/O
Welcome to the next generation of Bluefish444, with the arrival of the KRONOS range of video, audio, and data processing I/O cards. Built with multi-channel 4K 60p, High Dynamic Range, High Frame Rate SDI and SMPTE 2022 & SMPTE 2110 support for Video Over IP workflows for broadcast, production and post-production, the new KRONOS range is ready for anything that you can throw at it.
The KRONOS range is slated for an early 2018 release, however this is subject to change. To be the first to hear when you can order KRONOS, make sure to . You can also follow us on Facebook, Twitter, YouTube and Google+ for the latest news on Bluefish444.
Award-Winning Design
Bluefish444's new KRONOS range of video cards won both the TV Technology AND Installation Best Of Show awards at IBC Show 2016.
This is only the beginning for KRONOS, and we can't wait to show you what is to come.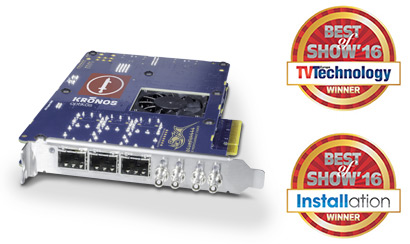 Major features at a glance
| | KRONOS ēlektron | KRONOS optikós |
| --- | --- | --- |
| SD SMPTE295M | 8 | 2 |
| HD 1.5G SMPTE292M | 8 | 2 |
| 3G (A+B) SMPTE424M | 8 | 2 |
| MSA and Non-MSA Compatible SFP+ | NO | YES |
| ASI | YES | YES |
| 4:2:2:4 / 4:4:4:4 SDI | YES | YES |
| NVIDIA GPUDirect | YES | YES |
| AMD SDI Link | YES | YES |
| Single Link/Dual Link/Quad Link | YES | YES |
| 12/10-bit SDI | YES | YES |
| Full 4K Frame Buffer | YES | YES |
| 3G Bypass Relays | 4 | 1 |
| 12-bit video processing | YES | YES |
| 4x4x33-bit Colour Matrix | YES | YES |
| MR2 Routing Resources | YES | YES |
| Hardware Keyer (2K/HD) | YES | YES |
| Customisable and flexible pixel format | YES | YES |
| AES Digital Audio I/O | YES | YES |
| LTC I/O | YES | YES |
| RS-422 | YES | YES |
| Bi/Tri-level Genlock Input & Crosslocking | YES | YES |
| Genlock Loop Through | YES | YES |
| VANC Complete Access | YES | YES |
| HANC Embedded Audio/Payload ID/Custom Packets/RP 188 | YES | YES |
| Video Over IP (SMPTE 2022, SMPTE 2110) | NO | YES |
*Note that features are subject to change at any time.
The Bluefish444 Features you Know and Love
The KRONOS range will extend the features of Bluefish444's widely-adopted Epoch video cards used across broadcast, feature film and post-production markets for production, projection, editing, animation, compositing, colour correction, restoration, digital intermediate, 3D and IPTV workflows. KRONOS will uphold Bluefish444's already market-leading video I/O features, with the industry's lowest latency, bi-directional SDI connectivity, multi-channel SDI I/O workflows, 12-bit processing technology, and unsurpassed quality and reliability in hardware design and manufacturing.
The Needs of Today
KRONOS will bring with it access to high-bandwidth UHD, High Frame Rate and High Dynamic Range video I/O and processing across both traditional SDI, and also through emerging IP standards such as SMPTE 2022 and SMPTE 2110. KRONOS also adds video processing technologies including resolution scaling, video interlace and deinterlace, hardware codec support, and SDI to IP and IP to SDI conversion. And that is only the beginning.
Ready for the Future
KRONOS will offer the choice of SDI I/O connectivity with the KRONOS ēlektron, featuring 8 high-density BNC connectors capable of 3G/HD/SD-SDI. Each HD BNC connector is fully bi-directional, enabling numerous configuration options, including 8 input, 8 output, or a mixture of SDI input and output connections.
The KRONOS optikós offers future-proofing connectivity with 3 SFP+ cages in addition to 2 HD BNC connectors for 3G/HD/SD-SDI I/O. These SFP+ cages provide limitless connectivity options exposing greater than 3G SDI, IP connectivity across 10Gb Ethernet, and flexibility to choose from numerous physical interfaces.
Fastest Full-duplex DMA Engine
All KRONOS cards will boast an 8-lane Gen 3 PCIe interface, to achieve the fastest full-duplex DMA on the market today, further cementing Bluefish444's place as the low-latency video I/O card of choice.
Access a Unified API across Windows, Linux & macOS
Supported by Bluefish444's cross platform unified driver and API, the KRONOS range is set to become the highest quality, most reliable solution for high-bandwidth multi-channel video, audio, and data processing and I/O solution available in the industry today.